The project is about the rehabilitation of Casa da Companhia, an emblematic building that was built in 18th century in Porto, and converting it into a 5 star Lux Residences hotel with
2 decorated and equipped Suites;
Club and Spa;
Indoor and outdoor swimming pool;
Fine dining restaurant and Shop.
Located within the heart of a tourist zone in the second largest city of Portugal, Porto is one of the oldest European centres, and its historical core was proclaimed a World Heritage Site by UNESCO in 1996. Casa da Companhia receives not only support from local government but also from the EU through financial fund Portugal 2020.
Total project cost: 11.2 mllionEUR
Total project cost: 11.2 mllionEUR
Total investors: 32
Investment amount: 350,000EUR per investor
Construction timeline: 12 months
Annual rental guarantee: 4%EUR
Total benefits after 6
years of investment: 83,000EUR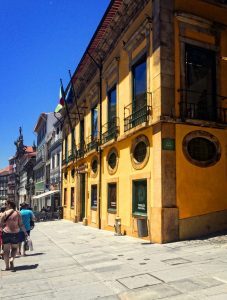 ADVANTAGES
Invest in a qualified restoration real estate project located in Historic Centre of Porto, a World Heritage Site proclaimed by UNESCO
Portugal Fund 2020 support finance during construction
The project is the second 5 star hotel in Porto
City of Porto is top 5 cities in Europe that attract tourists worldwide
Occupancy ranking of hotels in Porto is more than 70%
Low investment amount of only 350,000EUR
BENEFITS OF THE INVESTOR
To be reimbursed a municipal tax of land worth 13,000EUR upon completion of the project
No annual property tax
Receive 4% Return on Investment annually
Become the Owner of the hotel
Flexible Exit strategy
Stay in the hotel to comply minimum time requirement of Golden Visa program